About Refresh
refresh and Stefanie Mahr Damien. The roots of Refresh sprouted out of a little room in our home in Salem, Massachusetts in 1989. My home-based business, called Stefanie's Stitchery was created so I could be with my daughters Zoe and Hannah. I designed and fabricated costumes, garments, bridal gowns and bridesmaid dresses. I also did clothing alterations for the folks in my neighborhood. Shortly thereafter, I began sewing draperies and windows treatments, and soon my business was 90% decorating.
In September 1995, I moved my business to my first retail site: The Interior Design Workshop – home of Stefanie's Stitchery.
In 2001, I upgraded to a larger location in the heart of historic district of Salem. I particularly enjoy working on historical window treatments. Through the years, I have been commissioned by various designers to do custom work which includes the Peabody Essex Museum, and I was recognized for my contribution to the Salem City Hall Restoration Project in 2003.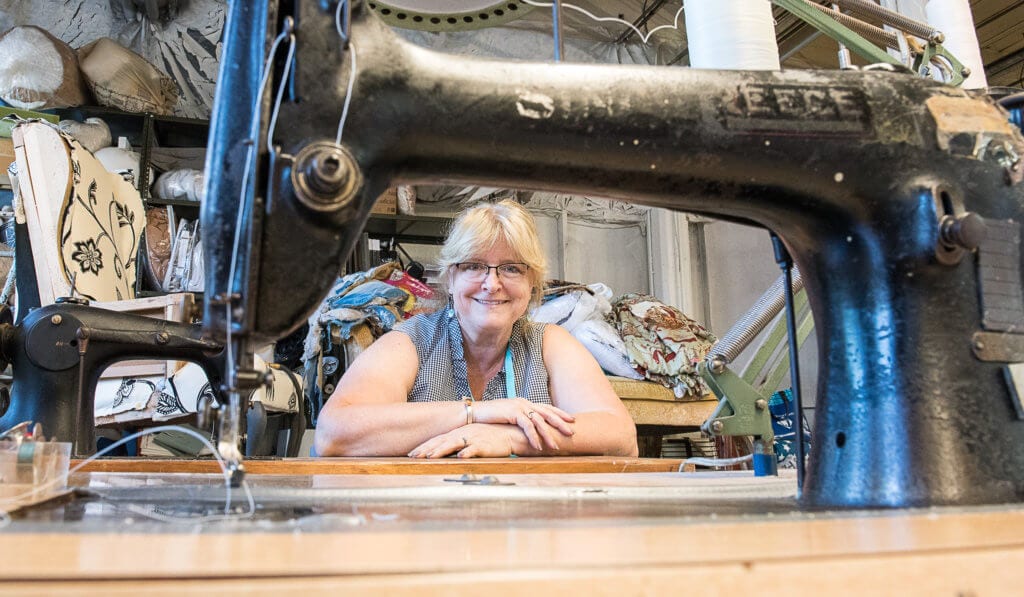 In conjunction with decorative painter Ruthann Cordes, I participated in the Joseph Story JCC Designer Show House in 2002.  In 2007, I teamed up with Suzie Weldon, owner of Verve as Real Estate Stager, to participate in the Historic Salem, Inc. Christmas House Tour. After moving to Maine in 2015, I decided to combine my 26 years of experience in sewing, my love of textiles, success at interior decorating and working with families to downsize,  creating a new business – refresh.  I work with families, seniors, real estate professionals, developers and homeowners to refresh, restore, redecorate, re-imagine and reinvigorate their homes, businesses and investment properties.  The investment in a "refresh" – be it small or large, is a value proposition with a proven return on investment. The other aspect of my business is custom window treatment fabrication and upholstery.  For 26 years I have been reupholstering, sewing and making custom drapes, pillows and cushions. I have industrial machines and I also create seating and bedding for boats and yachts. I am a member of the Women's Literary Union Historical Committee at the Foss Mansion in Auburn, Maine, the Maine Women's Network, the LA Metro Chamber of Commerce, and the Auburn Wealth Builders Chapter of BNI. One of my keys to success is that I believe that there is an invisible sign hanging around everyone's neck that says, "Make me feel important!"  It is my goal to achieve that daily – both personally and professionally.